Congratulations to Sister Teresita of the Infant Jesus, OCD.
Solemn Profession , September 8, 2018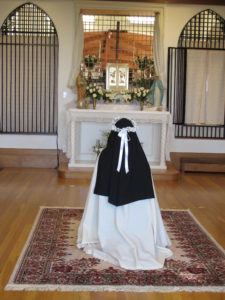 Click on the files, below, to hear parts of the liturgy and Sister's declaration of vows.
🔊 Bell Before Mass
🔊 Liturgy of the Word
🔊 Gospel
🔊 Homily
🔊 Litany of the Saints
🔊 Veiling Ceremony
🔊 Ave Maria
🔊 Sanctus
🔊 Agnus Dei
🔊 Panis Angelicus
🔊 Amo Christum
🔊 Gloriosa
🔊 Salve Regina
🔊 Recessional Hymn
Making a contribution…
If you are inclined to give a donation to the Carmelite Sisters, you may do so through the Diocese of Oakland. If you "click" on the image at the bottom of this paragraph, you will be taken directly to the secure Diocesan web page that facilitates on-line contributions.
We thank you most sincerely for your generosity.